Brazoria Criminal Defense Lawyer
Attorney Sandra J. Oballe
Brazoria Law Office Location
1212 N. Velasco #200, Angleton, TX 77515
Phone: 979-265-6800
Houston Law Office Location
405 Main St. #835, Houston, TX 77002
Phone: 713-524-6656
Brazoria Criminal Defense Lawyer
Attorney Sandra J. Oballe
1212 N. Velasco #200, Angleton, TX 77515
Phone: 979-265-6800
405 Main St. #835, Houston, TX 77002
Phone: 713-524-6656
Great Lawyer
Ms. Oballe is a very passionate defender of the rights of the accused. She is very professional and diligent.
Bucio Family
Ms. Oballe is an excellent lawyer. My husband was accused of something he did not do intentionally.More
Fantastic Lawyer!
Sandy was an amazing lawyer. She is very responsive to phone, email and text. She completely explains everything to you and has your back every step of the way. She fights for her clients and seeks a quick resolution. She knows her stuff is well known and respected. I would use her again and will recommend her to others.
Spot on
Easily contacted Sandra, was surprised to get a response after business hours. She was not able to support what I needed done, but she was very specific on what needed to be done and who I could get in contact if we needed help. Who does that? Thank you
Best Lawyer Ever
Sandra Oballe is the lawyer you want to hire. There is no stone left unturned with Sandy, she poured over every detail of my case, and worked relentlessly and did everything she could in order to get the very best outcome for me. Sandy is also easily reachable, I was in constant communication with her and she kept me up to date on any new developments in my case, which was very reassuring. Lastly, she cares for her clients and listens to them and will always fight for them no matter what. I hope I never have to get a lawyer again, but if I do I will be calling Sandy in a heartbeat.
I'm Serious About My Clients
When a person is accused of a criminal offense, it can be a scary, confusing and traumatic experience. As a defendant facing prosecution, you'll need someone who is experienced in the law and familiar with the county and court systems where the charges lie.
You'll also serve your best interests by hiring a lawyer who is an aggressive advocate for their clients, and who is willing to put in the time and effort to do the necessary groundwork that's a prerequisite for finding the best legal strategy to fight the State of Texas.
Need Professional Legal Counsel?
Call Sandy! Now Serving Angleton, Alvin, and Pearland clients.
A Criminal Defense Lawyer, an a Professional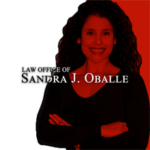 Sandra Oballe is an experienced criminal defense attorney who takes pride in answering her own phones, returning calls, answering emails, handling text messages, and directly engaging with her clients. She handles every client personally, as they deserve. She is a plain talking, loyal, aggressive, honest, and trustworthy advocate for her clients. If you're looking for a criminal defense lawyer in Pearland or Brazoria County, she's one of the best.
Once hired, representation begins by thoroughly discussing your case, giving you an honest evaluation and opinion, predicting what outcomes are possible, thus preparing Ms. Oballe to zealously advocate your position in the courtroom. Ms. Oballe is no stranger to the courtroom. If a trial of your case is necessary, Sandra Oballe has the experience as a criminal defense trial lawyer having represented clients in misdemeanor and felony trials in Brazoria County. You'll be in the right hands.
As a criminal defense lawyer, Sandra represents people charged with all levels of misdemeanor and felony offenses in Alvin, Angleton, Pearland, and throughout the region.
Cases she normal handles include: driving while intoxicated (DWI), assault, terrorist threat, deadly conduct, possession of marijuana, possession of dangerous drugs, possession of controlled substances, and all other misdemeanors. Felonies: murder, manslaughter, possession of drugs, felony DWI, assault serious bodily injury, sexual assault, sexual assault of a child, and all other felonies.
If you're looking for help in the fight for your freedom following a criminal charge in Angleton, Pearland, Alvin, or elsewhere in Brazoria County or Southeast Texas, call my office today at 979-265-6800.
Aggressive and Effective Legal Representation
Counties of practice: Harris, Brazoria, Montgomery, Galveston, Fort Bend and surrounding counties.
Se Habla Espanol