A Native Houstonian
Born and raised in Houston, I know what it means to be a Texan, and that mean being a fighter. With a career in law, it was only natural for me to move in the an arena in which I could fight for my fellow Texas, the criminal justice system.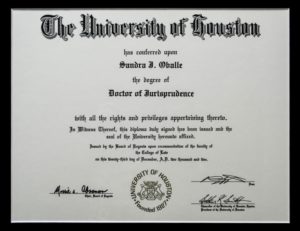 A Career in Law
Before becoming a lawyer, I was a court reporter working in Harris County, and was also active in surrounding counties.
I was the Official Court Reporter in the 228th District Court for two years when Judge Ted Poe was the presiding judge.
Education & Legal Credentials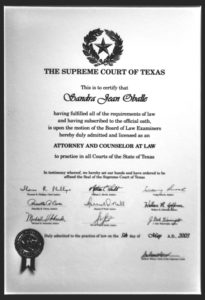 I completed my undergraduate, Bachelor of Science (Psychology) at The University of Houston in 2000, and my juris doctorate at The University of Houston Law School in 2002.  I sat for the February Bar and became licensed to practice law in May 2003.
Dedicated to Defending My Clients
If you have criminal charges pending against yourself or a loved one, and you're looking for an attorney who won't attempt to get you to plea your case out for the sake of simplicity, call my office immediately.
My phone number is 979-265-6800.
I handle felony and misdemeanor cases, and I'll appear anywhere in the Houston area (Brazoria County, Harris County, Fort Bend County, Galveston County, Waller County, Liberty County, San Jacinto County, Chambers County, Liberty County) in which you need "competent" legal representation.
Attorney Sandra J. Oballe
A Brazoria Based Criminal Defense Lawyer