A Native Houstonian
Born and raised in Houston, I know what it means to be a Texan, and that means being a fighter. With a career in law, it was only natural for me to move into an arena in which I could fight for my fellow Texas, the criminal justice system.
A Career in Law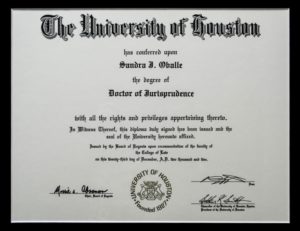 Before becoming a lawyer, I was a court reporter working in Harris County, and was also active in surrounding counties.
I fell in love with criminal law while working as a court reporter. I was the Official court reporter for the 228th District Court in Harris County where Judge Ted Poe presided for two years. I owned a court reporting business before and after working for Judge Poe.
Education & Legal Credentials
I left court reporting to finish my undergraduate degree. I graduated with a Bachelor of Science in Psychology and was on the dean's list in 2000 from the University of Houston. I took my last undergraduate exam on a Monday and started law school on Thursday of that same week. I graduated from the University of Houston Law Center in December 2002. I took the February bar in 2003 and passed.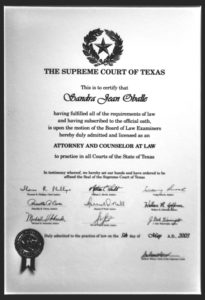 I completed my undergraduate, Bachelor of Science (Psychology) at The University of Houston in 2000, and my juris doctorate at The University of Houston Law School in 2002.  I sat for the February Bar and became licensed to practice law in May 2003.
Dedicated to Defending My Clients
I really like practicing criminal defense. I help people who have gotten in a bad spot. I handle each client personally. I fight tirelessly on my client's behalf. I love a underdog and a underdog case. I'm never sorry when I gave a case all of me and tried everything I could to win or get the outcome my client wanted.
I want my clients to feel protected and defended. I stand between my client and the government. I fight all out. I defend and never give up; no matter the level of the charge. I am also constantly aware of limiting my client's exposure when necessary. I am NOT a plea attorney. The decision to accept a plea bargain is completely up to my client. Even when a plea bargain is the outcome desired, I still want to conduct the investigation and research to get the best options for my client. Winning and bringing home a win for my client is always my goal and the best feeling the world.
My phone number is 713-524-6656.
I defend individuals charged with both felony and misdemeanor criminal offenses. As your attorney, I'll appear anywhere in the Houston area (Brazoria County, Harris County, Fort Bend County, Galveston County, Waller County, Liberty County, San Jacinto County, Chambers County, Liberty County) or other legal jurisdiction in Texas where you need "competent" legal representation.
If you're looking for a defense lawyer to help you following criminal charges in Angleton, Pearland, or elsewhere in the Houston area, call my office today at 979-265-6800.
About Attorney Sandra J. Oballe
A Brazoria Based Criminal Defense Lawyer